Cognitive Functional Therapy
CFT at North Lakes Physiotherapy
Want something a bit more personal to ease your pain? Ever feel like it's only your problem areas that are looked at and not you as a whole? Every part of your body works together so you can move. That includes your brain, something that is unfortunately neglected in lots of treatments. Cognitive Functional Therapy, however, looks at addressing problems holistically.
Sick of struggling with chronic pain? Looking for the opposite of a one-size-fits-all treatment? Cognitive Functional Therapy takes your behaviour into account and seeks to give you a full understanding of your problem and how to fix it. North Lakes Physio provides Cognitive Functional Therapy to people in Penrith, Sedbergh and wider Cumbria. Get in touch today for a truly personal solution to your problem. Give us a call on 0794 7918063 for information sooner.
What is Cognitive Functional Therapy?
Cognitive Functional Therapy (CFT) is a patient-centred approach to pain management. CFT pioneered by Peter O'Sullivan, professor of Musculoskeletal Physiotherapy at Curtin University.
Instead of just looking at the problem and the body part it affects, with CFT we look at you as a whole. This includes taking into account your behaviours and beliefs surrounding the issue. CFT is best reserved for chronic pain, especially lower back pain and pelvic pain.
What are the benefits of Cognitive Functional Therapy?
Pain is not just physical, but also an emotional and sensory experience. CFT takes this into account.
With CFT from North Lakes Physio, your therapist will get to know you and the causes and extent of your problem. From this we'll look at lifestyle and movement to work out factors that stop the pain from going away. Often chronic pain doesn't go away because of negative beliefs around the problem, such as fear and anxiety. You may worry that overuse of the problem part will result in further pain. Though in reality not using it can make things much worse.
We'll make sure you know what's going on and what you have to do at every step. By doing this, any worries you have will be allayed. You'll finally be able to break through and rid yourself of chronic pain.
Why North Lakes?
Each one of our physiotherapists is a member of the Chartered Society of Physiotherapy. As well as this, they're registered with the Health and Care Professions Council. Both of these bodies require constant evaluation and assessment of their members. So you can rest assured when you come to North Lakes Physio, our staff are well-practiced and up to date.
Been struggling with chronic pain? Try something different. The majority of physiotherapists don't offer Cognitive Functional Therapy, but we do. Get in touch with North Lakes Physio today to find out exactly how we can help you with CFT. Give us a call on 0794 7918063 to find out sooner.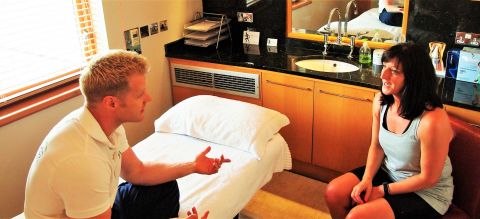 North Lakes Physiotherapy is fantastic. You can go with any injury, or like myself, you can go with a disability, and rest assured you will get the best possible support. Mike Salkeld especially has supported me through the highs and the lows of my disability. Giving me exercises along the way to help me continue to improve. I would not go anywhere else, and I would recommend to all my friends and family